Wedding Cerimony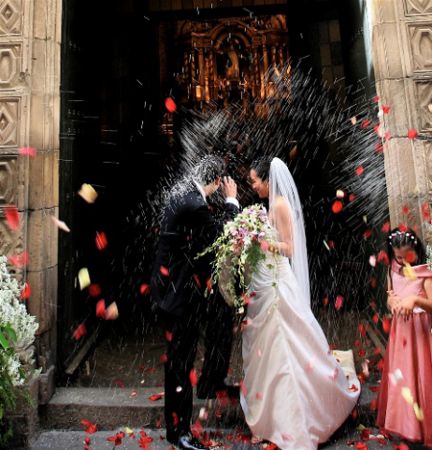 In Italy two kinds of ceremonies can be celebrated: the civil wedding and the religious wedding with civil validity. These ceremonies are regulated by specific laws that handle several procedures and documentation. Both kinds (civil and religious) confer on the newlyweds the same rights and duties. In fact due to a specific agreement between State and Church the religious wedding has civil validity. At the end of the religious ceremony the officiating priest reads some articles of the civil code regarding rights and duties of the spouses and the wedding certificate is reproduced to the Consulate or Embassy of the couple's citizenship.
Ischia and the Amalfi coast are the perfect location to celebrate civil, religious and symbolic weddings, either for the stunning naturalistic beauties and the magic locations. From Town Halls to Chapels and Churches, historical and picturesque locations unique in the world will make unique your finest moments too.
Civil weddings
Civil weddings in Italy are legally recognized all over the world, you will receive a formal international wedding certificate that can be registered in your home country. Ceremonies must take place in a wedding hall approved by the local Italian authorities, two witnesses are required, which we can provide. The mayor or designated town official performs the civil ceremony on behalf of the Italian government with an official Interpreter and you can personalize the ceremony with music, selected readings and flowers. The entire ceremony usually lasts about 30 minutes.
The very appealing thing to keep in mind is that italian wedding halls are not impersonal government buildings, our locations are full of beautiful places where to plan a legal ceremony: renowned historic villas or ancient palazzos with splendid frescoes and antique furnishing. Medieval castles, historical palazzos or panoramic terraces, each to satisfy every taste.
Catholic weddings
It is possible to celebrate a wedding accordingly to the Roman Catholic rite ceremony in one of our charming churches requiring the catholic documents, the pre cana classes and the Nihil Obstat to the belonging diocese. The witnesses are an essential part of the ceremony, a minimum number of two and a maximum of four is required. Their signature give legality to the event. Churches in this part of Italy are very special: they are not too big and different from each other, each one has something to tell that reflects the story and the life of the people of that place during the century. All of this makes your catholic wedding really unique. It is an amazing experience for foreign citizens to marry in Italy, the land of Love, and it is quite simple with our assistance to obtain the necessary documentation. More information
Protestant weddings
It is also possible to celebrate stylish Protestant weddings with civil validity all over the world. However there is not a place more beautiful to celebrate a wedding with this kind of rite, than the Gulf of Naples and the Amalfi Coast! In fact with all the various wonders that our locations offer there are no limits and you can choose your wedding celebration to be held among luxury villas, beaches, yacht and sailing boats, the highest peak of a mountain with a breathtaking view. At Elite Italy Wedding Travel we have the possibility to arrange this kind of wedding simply anywhere desired enticing our clients with many exciting proposals.
Symbolic wedding
The ritual of a symbolic wedding is finalized to testify the marriage tie between two people. This kind of ceremony is no legally binding and does not follow the rules of the civil and religious rites in fact is not celebrated in a Public Office by a State Officer or a Minister of Religion. Many couples are going to be legally married in their home country or they already are but want a very special celebration to officialize their union not worrying about completing documents. The symbolic wedding can be celebrated by anybody the couple desires: a friend, a relative, even by a Shaman if a magic touch in the ceremony is wished. Besides personalizing the ceremony in any way desired, like including personal vows, favourite songs, poetry, religious elements or pagan rituals it is also possible to choose charming and suggestive location, giving a special touch to their tie. This kind of ceremony is increasingly frequent because it is quick and simple, it is a good solution also for homosexual couples or between persons with different religions. Very often the symbolic wedding is also adopted by couples that simply wish to celebrate their love, after years of marriage to renew their vows or because they are just in love!
Symbolic wedding themes:
Gods on the Mount Olympus Magic Celtic
Wedding Movie Star wedding Submarine wedding