Hotels: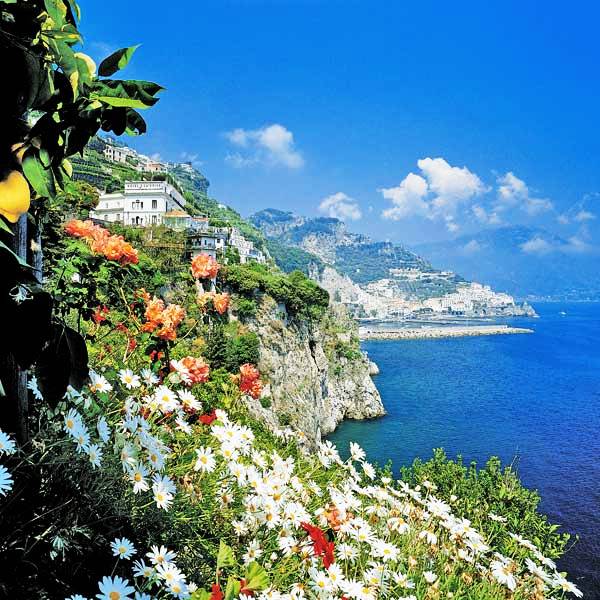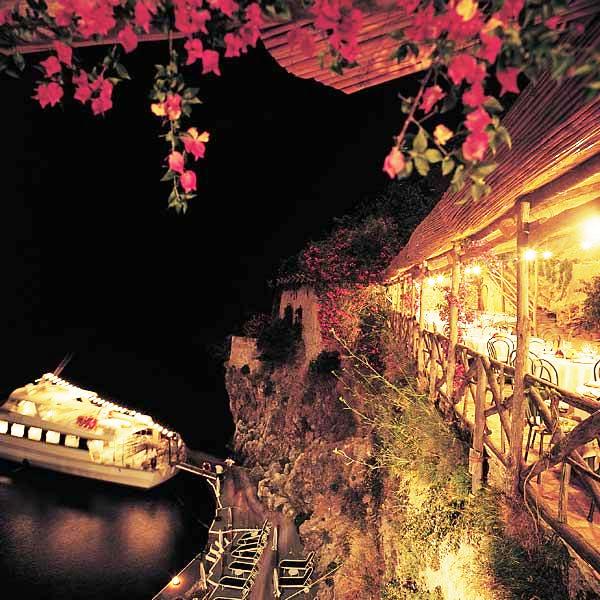 Luxury Hotels in Amalfi provide a spectacular setting for an intimate banquet or sumptuous wedding reception. The secluded, sun-kissed veranda and the light-filled dining room overlooking Amalfi, are the perfect venues in which to host a truly unforgettable event.
Restaurants: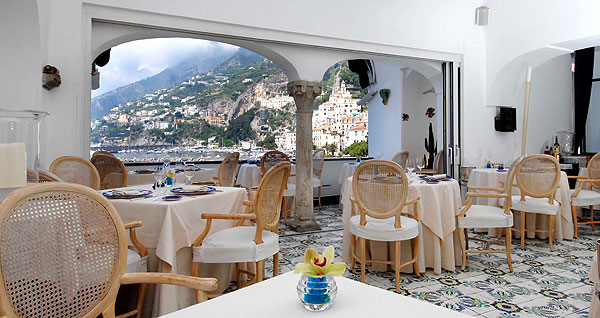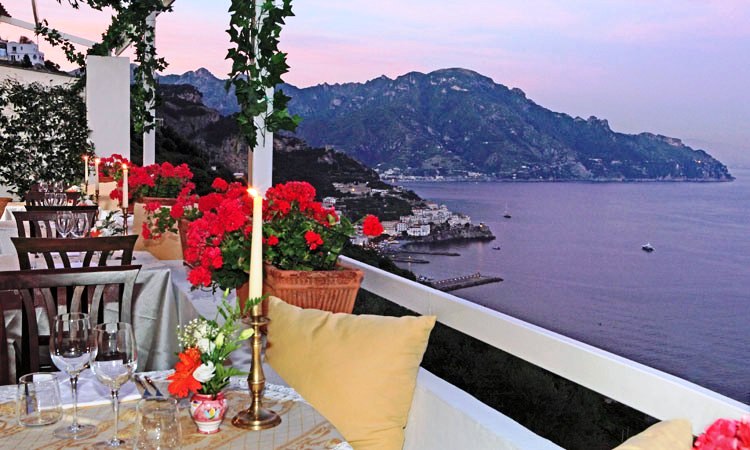 Characteristic and elegant restaurants are located in picturesque corners of the Amalfi coast, protected by the steep promontory that stretches dramatically out into the sea.
Furnished in a sober and elegant style most decorated with typical ceramics from Vietri sul Mare their romantic terraces overlooking the sea give magical and timeless atmospheres at sunset, contemplating some of the most picturesque corners of the coast, from Amalfi to Positano and Punta Campanella. The cuisine reinterprets dishes of the typical Amalfi and Mediterranean tradition in a modern key, with attention to the freshness and genuineness of the ingredients.
Ancient Convento: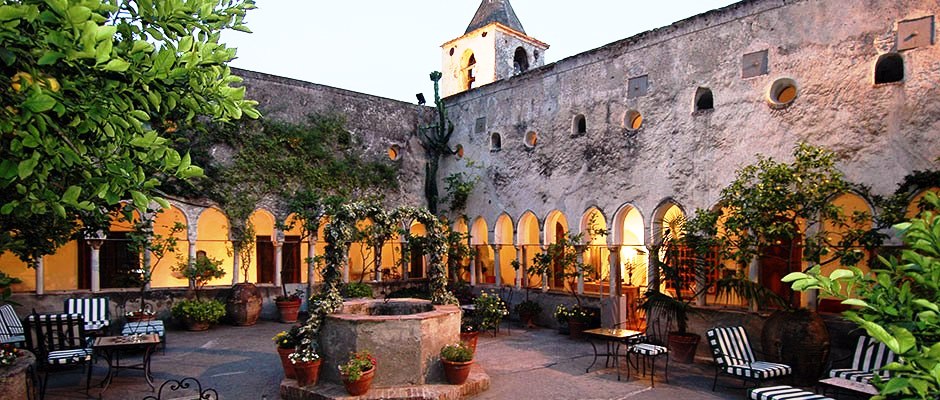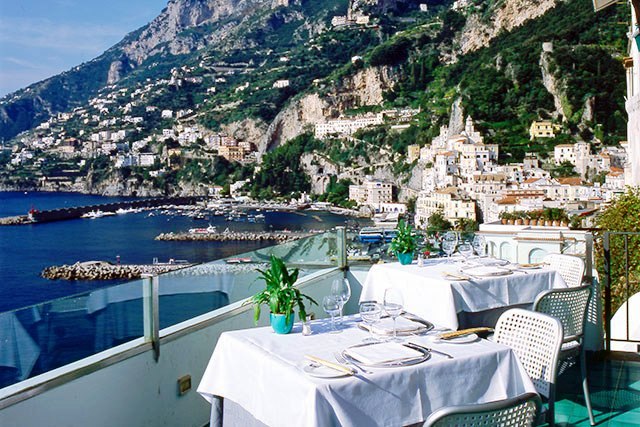 The views from this fascinating venue are incredible and together with its charming atmosphere make it an excellent choice for your wedding reception or staying in Amalfi. Close to the heart of town is perched atop the main coastal road and was once a medieval convent. Since the last century it has been one of the best known hotels of Amalfi. The pretty courtyard garden with scented orange and lemon trees is surrounded by the ancient cloister founded by St. Francis of Assisi in 1200. Wedding receptions in Amalfi, this romantic and panoramic hotel offers 2 beautiful restaurants and among antique cloisters, Saracen twers and other amazing corners this spectacular location offers many choices for your wedding on the sea
Luxury villas: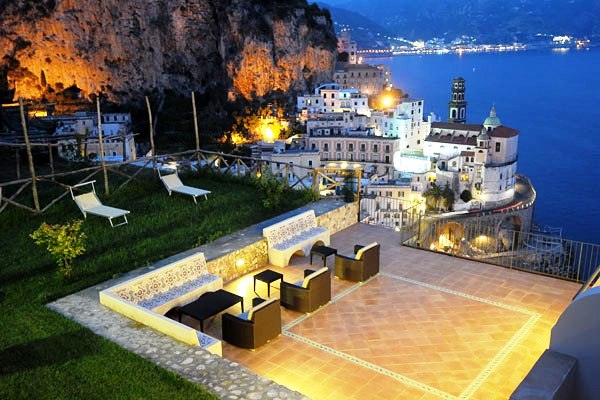 Luxury villas most of them located very close to the historic centre of Amalfi, in a very privileged position, with an enchanting view of the Amalfi coast and of the town that was the first of the four Maritime Republics in the Middle Age.
Splendid Villas in a perfect Amalfi style and with a significant charming historical component, equipped with all the modern comforts in order to host weddings, meetings and other important parties, the all preserving the ancient architecture of the hermitage, rich in precious and elegant decorations.
Saracen Towers: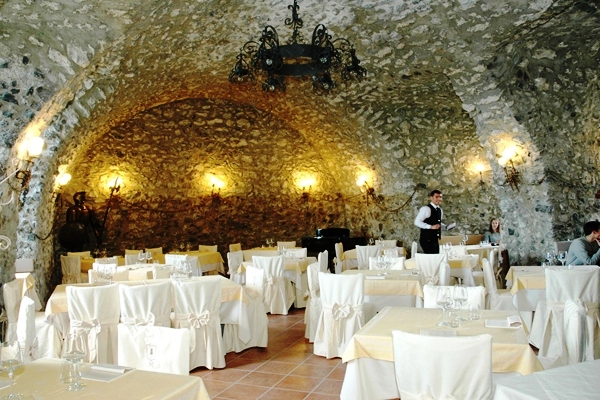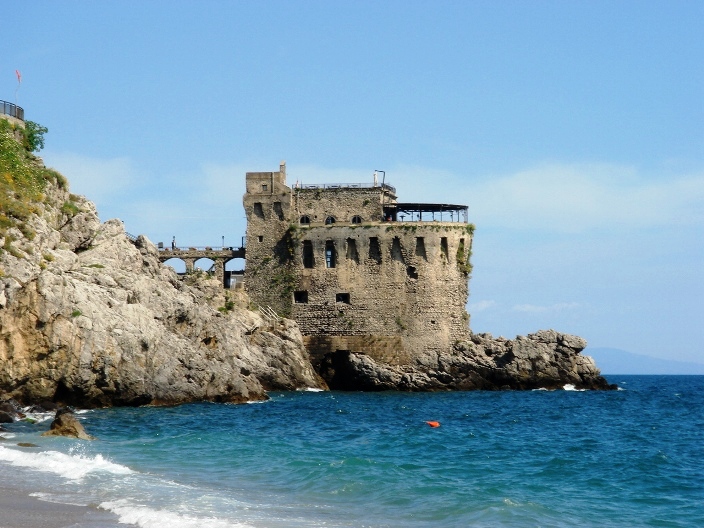 Builted between the III and the IV century the Saracen towers were built when it was still a Amalfi Maritime Republic, to defend the city against pirate attacks. In more recent times, these Towers became inviting rooftop restaurants with cocktail bar with a magnificent view over the sea of R03;R03;Amalfi. A very special and antique atmosphere for an other times wedding.